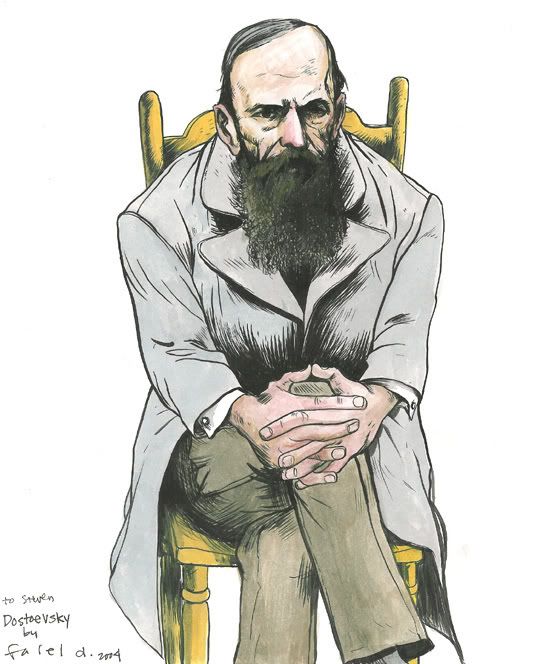 A couple of days ago I finished reading the part in
Karamazov
where Alyosha's family has shamed him in front of Zosima, and he is in a state of shock, embarrassment, and utter brokenness. Going in frightened, but with the hope that Zosima will help bring peace and resolution to the family, Alyosha silently watches things unravel and we get the sense that he is devasted. While I read this, I was overwhelmed with sadness for his character.
A few days later I found myself in a heated exchange that was less about me than it was about the brokenness that inhabits our world (side note: I'm so very glad that the gospel trumps patriarchy, though the process of that truth being lived out often seems arduous). In the context the discussion took place, so many of the elements and reactions paralleled the Karamazov's descent into futher brokenness, and I ended up finding myself playing Alyosha. Silently I listened to heated words echoing a dining room, and descended lower and lower into the sadness that marked each opinion. I was being attentive (
see earlier post
), and the story I kept hearing was heartwrenching. The story is steeped in so much pain, and in all honesty, if there was no gospel to cling to then the arduous road would seem pointless. It is at times like these that, though many tune out when I talk of God, or condescendingly balk at my belief in the resurrection of Christ, I am ever greatful for God's love, God's intent, and God's good news - even when it's hard to see.
There are days in which the hope of God and his kingdom is abundant and apparent. There are days where it seems so far off. There are days when
Ecclesiastes
does not do justice. Then there are days when you read Dostoevsky, and Dostoevsky reads you.